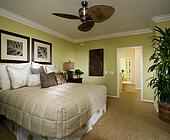 We're already looked at ways to save in the laundry room and Bathroom.. Today we're going to look for ways to save in the...
MASTER BEDROOM
I admit that this isn't a room that I often think of ways to save in. However, I sat in my bedroom and thought long and hard as I was preparing for this post. Here's what I came up with...
1. Limit how many sets of sheets you purchase. Most of us really only need 1-2 sets of sheets per bed. Invest in quality sheets in neutral shades to match your comforter/quilts and stick with those for awhile. I know many people that have way too many sheets stored away in their linen closets. They take up space so just cut back. You really don't need that many sheets for one bed!
2. Limit how many comforters and quilts you have. I like to change things up from time to time and that's okay occasionally. However, if you're wanting a way to cut back on your spending don't feel like you have to change your bedding every season. I know people that do this! Bedding is expensive. Challenge yourself to see how long you can go with the same comforter/quilt set without buying a new one. Don't fall prey to advertising!
3. Limit the numbers of items in your wardrobe. Purchase clothing in neutral colors and try to make sure that everything will mix and match to some degree. This keeps your wardrobe more versatile. Purchase clothing at thrift stores or with discounts such as clearance racks when they are off-season. I've saved TONS of money over the years doing this. Again...don't fall prey to advertising and trends. Trends come so stick primarily with the basics that don't go in and out of style. Also, don't have too many clothes. Do the hanger trick:
Start by hanging all of your clothes on hangers facing one way in your closet.

Every time you wear a garment, launder it and get ready to put it away, hang it up with the hanger facing the other way.

At the end of six months, do a walk through of your closet and see how many articles of clothing you never touched—meaning the hangers never changed direction.

Have everyone in your family try this approach in their closet.
This technique is a surefire way to identify clothes that has fallen out of fashion in your mind, and it should make your decision to donate or consign clothes easier at the end of six months. This will leave you with fewer clothes in your closet, less laundry to do and, if you consign, more money in your pocket.
4. Furniture and Decor....just like sheet sets and comforters we can get carried away with furniture in this room. I do believe that the Master Bedroom should be a room that's inviting, relaxing and of course romantic. Furniture and decor can help create that atmosphere. My only caution would be to watch your finances in this area if you're on a tight budget. Furniture is expensive and if you fall prey to the "buy now pay later" advertisements you could find yourself in a world of financial trouble later on down the road when the bills start coming. Instead of using credit to purchase your furniture make a plan with your spouse to save X amount every week or month to put toward the Master Bedroom furniture. How rewarding to walk into the store and purchase the bedroom set you want with cash! :)
Better yet....look for furniture at garage sales, flea markets, Craigslist, etc. You just might find what you're looking for there!
Do you all have any suggestions for saving money in the Master Bedroom? This is a room I kind of struggled with as I was thinking through things. I'm hoping you have some insight that I don't have. I would love to hear your suggestions! Leave a comment below!
Did you miss my previous posts? Read them below: