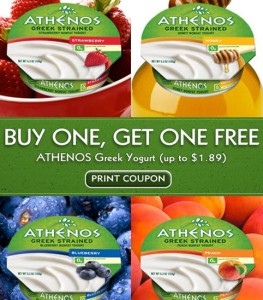 Go to Athenos' Facebook page HERE, "Like" them go to the "Coupon" tab and print a coupon for Buy one Athenos Greek Yogurt, Get One Free (up to $1.89). You can print it twice & it expires 30 days from the print date. These are priced at $1.00 right now at Walmart, combine this coupon with the $0.75/2 coupon on Coupons.com HERE(zipcode 60016 if needed):
Buy 4 Athenos Greek Yogurts at Walmart $1.00 ea.
Use 2 BOGO coupons from above
And Use one $0.75/2 coupon
Final Cost $0.31 ea.