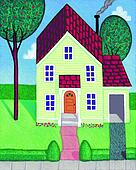 It's Thrifty Thursday again! Today I'm going to discuss some ways that you can improve your home at no cost to you.
Do you ever just get that anxious feeling sometimes where you feel like your home needs a change? I especially feel like that during this time of year when we have long, cold, dark days in the winter. How do you handle your emotions when the "wants" pop up? I've found that if I just step back, wait, and don't act on those feelings they eventually settle down or go away.
My goal is to be content in my home. Yes, I want it to look nice, but I don't want my contentment to rest on what I have or don't have in my home. In other words, my contentment should not be related to
things
, but should rest in my relationship with Christ.
We can, however, make changes in our home without spending a dime when those feelings creep in! I've found that if I do these few things, my mind usually gets occupied and I forget all about the "wants" that I experienced just hours before. In the end I love my home again and it feels new and fresh again.
Below are some ideas that I came up with. Please feel free to share your ideas in the comment section below.
1. Clean. Yes, you read that right. Sometimes just taking the time to dust off the shelves, clear off the kitchen counter and mop the floor will spruce up your home more than you think!
2. Open up the curtains and blinds to let some sunshine in.
3. Light a candle.
4. Re-arrange the furniture.
5. Windex/wash your mirrors and windows.
6. Trade out some of your existing decorations with some that you're not using right now.
7. Clean out and organize your pantry.
8. Clean out the refrigerator.
9. Launder the curtains to get the dust off.
10. Wash your bedding.
11. Make your bed....just like mom always said!
12. Clean the carpet.
13. Organize your closet if it's gotten out of hand.
14. Clean the throw rugs around the house.
15. Be social. Inviting friends over isn't just fun, but it forces me to spruce up the place too!