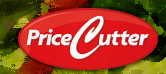 The deals are pretty slim at Price Cutter this week, but here's a few match ups and good deals. I'm going in to get some apple juice tonight
Midwestern Gold Premium Fresh Cut Bone-In Pork Sirloin Roast - $0.99 lb.
Best Choice Cream Cheese (8 oz.) - $0.69
Best Life Buttery Spray or Spread (8-15 oz.) - $0.99
Use $1.00/1 Bestlife Buttery Spread, Spray or Baking Sticks coupon from the 1/2 SS insert or from HERE (cashier will need to adjust the coupon down to $0.99) *** I'm not sure if the Spfd. stores carry this, but I'll be there tonight and will check!
Update: I'm hearing that they do have this..I didn't go, but heard from someone else! Also, this is FREE at Dillon's this week as well.
Final Cost FREE
7Up products (2 Liter Bottle) - $0.99
Best Choice Apple Juice (96 oz.) - $0.99
Tony's Pizza (12-14 oz.) - $1.69 Limit 4
Buy 2, Use $1.00/2 coupon from HERE
Final Cost $1.19 ea.
Xtra Laundry Detergent (39 use) - $2.50
Use $0.50/1 Xtra Laundry Detergent coupon from the 12/12 SS insert (doubles) orHERE
Final Cost $1.50 (this will also be $1.49 at CVS next week, but CVS doesn't double coupons. However, you might want to use your ECB's to get it free there.)