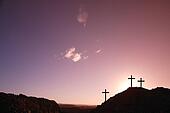 My Easter weekend is officially starting now. I hope you all have a great weekend celebrating the resurrection of our risen Savior, Jesus Christ.
I'm not sure how much I'll be posting over the weekend, but I'll be back in full swing on Monday. If you haven't already
"followed" Spot My Eye on facebook
you might want to do so. If I have any free time at all I'll be posting most of the deals over there this weekend as it's a bit easier and less time consuming.
Remember...not coupons in this Sunday's newspaper!