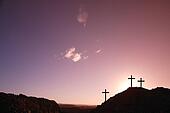 I normally don't blog on Sunday's, but wanted to give my local readers a couple of invites to think about for this coming Easter week...
This coming Wednesday, April 20, 2011
my church
will be hosting an event called "Journey To The Cross." This is a walk-through event for families to travel through together. From what I understand, we'll travel from room to room viewing different scenes that took place on Jesus' "Journey To The Cross." This is a great teaching tool for parents to use as they share the message of Jesus' death and resurrection with their children. If you're interested in attending please
call the church office
for more information.
Second, on this same theme..If you're not currently involved in a church family and would like to attend an Easter Sunday Service I invite you to attend on Easter Sunday at 10:40 a.m. for our Easter Musical presentation. We would LOVE to have you as our guest. If you attend be sure to tell someone that Heather invited you so I can meet up with you!