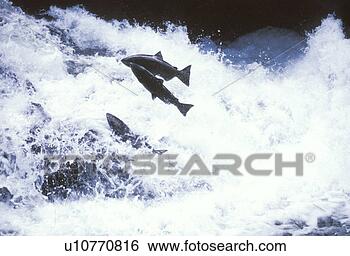 We have a family motto at our house:
"We're swimming upstream in a downstream world."
Brian and I came to a point in our marriage in the Fall of 2004 where we decided to be deliberate about changing some things. As I was thinking about our motto this week I started thinking about some personal changes I've made in my life.
One year ago I was given the book,
Voices of The True Woman Movement
to review. I read it cover to cover and then wound up going to the
True Woman 2010 Conference
in Ft. Worth, TX. Chapter 2 is all about the True Woman saying "yes" to God....
"She lives intentionally, not just drifting from one meaningless activity to the next, letting the circumstances of life pull her along. She's willing to be like a salmon, swimming upstream, living a counter-cultural life in an unholy world for the glory of God....."
Just those two sentences alone are full of some major food for thought!
I'm an observant person by nature. I believe that the Lord gave me the gift of discernment and with that gift comes a lot of observing. One thing that I've observed not only in the cyber world of Blog Land, but also in a lot of classes that I teach is the "meaningless activity" that was touched on above.
I was challenged to evaluate my own "meaningless activity" several weeks ago. I want to extend that challenge to you. Are you being intentional about the activities that you do or that you're involved in? Are they profitable? Do they please God? Do they further His kingdom? Do they display God's glory?
I found many "meaningless activities" that I needed to deal with. Truth is...I'm still dealing with some of them:
Too much time on the Internet
Not spending enough quality time with my children
Not speaking enough encouraging words to my husband
Slacking on menu planning
Drinking too much soda
and several more....
To take this thought to a spiritual level I wanted to focus on some of the "meaningless activities" that we deal with spiritually. Chapter 2 goes on to list some of those as things we can say "no" to:
"No" to bitterness
"No" to self-centeredness
"No" to whining
"No" to complaining
"No" to pining
"No" to resisting, resenting, running from the will of God
But it means saying "yes" to a whole lot more:
"Yes" to forgiving those who have sinned against us
"Yes" to receiving God's forgiveness for ourselves
"Yes" to repentance
"Yes" to serving
"Yes" to embracing God's choices for our lives
"Yes" to trusting Him with our circumstances
"Yes" to finding and fulfilling His purposes
Swimming upstream in a downstream world is NOT easy. It takes courage, sacrifice and deliberate determination to get to the goal! It means saying "no" to some things and "yes" to other things. It is in saying "yes" to God that we find true meaning and reach our goal in this life!
Philippians 3: 7-14 (NIV)
7
But whatever was to my profit I now consider loss for the sake of Christ.
8
What is more, I consider everything a loss compared to the surpassing greatness of knowing Christ Jesus my Lord, for whose sake I have lost all things. I consider them rubbish, that I may gain Christ
9
and be found in him, not having a righteousness of my own that comes from the law, but that which is through faith in Christ—the righteousness that comes from God and is by faith.
10
I want to know Christ and the power of his resurrection and the fellowship of sharing in his sufferings, becoming like him in his death,
11
and so, somehow, to attain to the resurrection from the dead.
12
Not that I have already obtained all this, or have already been made perfect, but I press on to take hold of that for which Christ Jesus took hold of me.
13
Brothers, I do not consider myself yet to have taken hold of it. But one thing I do: Forgetting what is behind and straining toward what is ahead,
14
I press on toward the goal to win the prize for which God has called me heavenward in Christ Jesus.
~Heather